Today many business travelers and people are looking for the best accommodation when they look for a comfortable stay while away from home. Therefore, the industry is providing serviced apartments and hotels to accommodate such people. Staying in a serviced apartment gives you the room to work, cook, relax and sleep, and the average unit size is more spacious than an equivalent standard of hotel with rates that are more affordable than hotel rates.
One of the most recognized serviced residence operators is The Ascott Limited. Ascott, a whollyowned subsidiary of CapitaLand Limited, pioneered Asia Pacific's first international-class serviced residence with the opening of The Ascott Singapore in 1984. Today, the company boasts over 30 years of industry track record and award-winning brands that enjoy recognition worldwide.
In Indonesia, currently, a total of eight properties are managed by Ascott Indonesia including seven serviced residences under Ascott, Citadines and Somerset brand plus one hotel. Six properties are in Jakarta: Ascott Jakarta, Ascott Kuningan, Ascott Sudirman, Citadines Rasuna, Somerset Berlian and Somerset Grand Citra. There is also one in Surabaya: Ascott Waterplace Surabaya, and one hotel in Semarang: Oak Tree Emerald Hotel Semarang. By thefourth quarter (Q4) of 2020 and Q1 of 2021, Ascott Indonesia will open two new properties: Somerset Sudirman Jakarta and Citadines Berawa Beach Bali.
Located in Jakarta's Central Business District, Ascott Kuningan Jakarta is part of Ciputra World 1, an impressive integrated structure that comprises an upscale shopping center –Lotte Shopping Avenue – an ArtPreneur Center which is a museum, art gallery and theater rolled into one, and an office tower. In addition to such convenience at its doorstep, the luxury residence is located just a stone's throw away from some of Jakarta's main business and entertainment hotspots.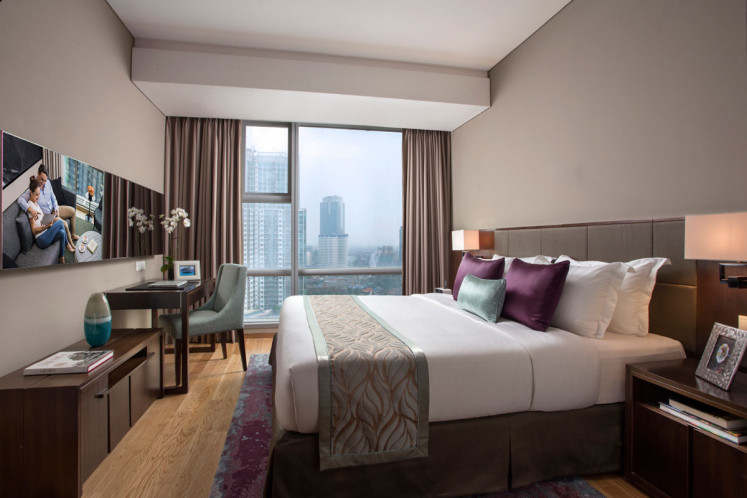 . (Courtesy of Ascott Kuningan/.)
Spacious and tastefully decorated, Ascott Kuningan apartments are designed to make our guests feel welcome, comfortable and pampered. Apartments come in various sizes, ranging from one-bedroom to three-bedroom apartments that come with a well-equipped kitchenette, washing machine and dryer. The upscale residence is decked with beautiful expressionist art pieces by one of Indonesia's most celebrated artists, Hendra Gunawan. Guests will find his colorful artworks in the lobby and their apartments.
Ascott Kuningan residents will be given full access to the residence's comprehensive facilities such as our business center, on-site gymnasium, swimming pool, badminton, basketball and tennis courts, children's playground and playroom, a residents' lounge, car park and a list of available services including car hire, dry cleaning, airport transfer, room and daily housekeeping.
Through "Ascott Cares", Ascott Kuningan continues to be the accommodation of choice by providing a safe haven for its guests and committing to maintaining high levels of hygiene and cleanliness as well as safe distancing to continue providing safe homes for its guests, and a safe working environment for its staff.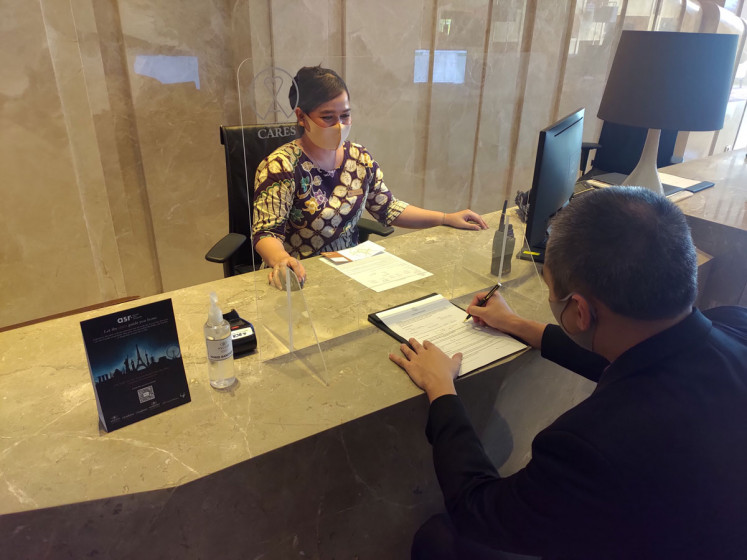 . (Courtesy of Ascott Kuningan/.)
The comprehensive protocols that comply with the World Health Organization standards and local regulations have been implemented such as: intensified cleaning procedures and disinfecting of all areas in the apartments and public areas, applying physical distancing and wearing a mask when in public areas, daily temperature checks, provision of hand sanitizer in most of our public areas and ensuring that new and returning guests who will stay in Ascott Kuningan fill out a Health Declaration Form.
Ascott Kuningan is also an award-winning property, recent awards include Indonesia's Leading Serviced Apartment at the World Travel Awards 2019 andTripAdvisor's Traveler's Choice Award. Ascott Indonesia also won Indonesia's Leading Serviced Apartment Brand for The Ascott Limited and Asia's Leading Serviced Apartments for Ascott Jakarta at the World Travel Awards 2019.
If you are a member of Ascott Star Rewards, you can enjoy more benefits when you stay at Ascott Kuningan and Ascott's properties around the world. With itsloyalty program "Ascott Star Rewards" (ASR), Ascott gives 2,000 points for a new member upon sign up. Signing up as a member is free. ASR is the first loyalty program in the serviced residence industry to offer full flexibility to earn and redeem points. There is no cap to points earned, no minimum points redemption, and no blackout dates.
For more information, please visit www.the-ascott.com .